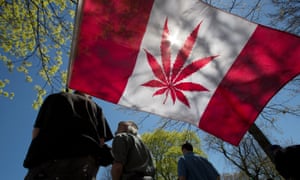 One of Canada's most prominent marijuana activists has taken aim at former police officers who have entered the country's fledgling cannabis industry, saying it was "hard to stomach" that those who spent years sending people to jail for pot offences are now poised to profit as the country moves towards legalisation.
"It's a mix of hypocrisy and pure profiteering," Jodie Emery told the Guardian. "They made a living off tax dollars for trying to keep people out of the cannabis business and now they're going to position themselves to cash in."
Her remarks come as legislation aimed at legalising recreational marijuana by 1 July 2018 was passed in the House of Commons. The bill will now head to the Senate, paving the way for Canada to become the first country in the G7 to fully legalise the drug.
Former public servants, politicians and law enforcement officers have gravitated towards the sector, which analysts say could eventually be worth somewhere between C$5bn and C$10bn annually.
The most controversial of these would-be entrepreneurs is Julian Fantino, a former Toronto police chief who once likened the decriminalisation of marijuana to legalising murder and, just two years ago, declared his complete opposition to legalisation.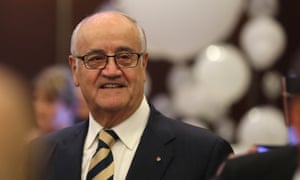 Fantino recently announced that he would helm a company that connects patients to medical cannabis among other services. Medical marijuana is already legal in Canada.
A former Conservative MP, Fantino was also part of a government that sought to crackdown on marijuana offences, passing legislation stipulating mandatory jail time for those caught with six plants or more.
At the launch of his company, Aleafia, last month, Fantino waved off questions about his past views. "Days gone by, we all had a certain attitude and certain perception of things being what they are and what they were," he told reporters.
Fantino said he had embarked on a "fact-finding mission" after being approached by Afghan war veterans who wanted access to marijuana to treat post-traumatic stress disorder and pain. "[I] learned a lot about this whole space and medical marijuana and that to me was the conversion, if you will, to enable us to be more helpful to people who are not presently attaining the kind of results from their medication, which is usually opiates." Fantino did not respond to a request for an interview with the Guardian.
Emery described Fantino's message as deeply offensive. "I'm always happy to see our opponents admit that we were right by adopting our messaging and what we've been saying for so long," she said. "But it's hard to stomach when he isn't saying that he's sorry for arresting people for cannabis, he's not saying sorry for ruining lives and trying to prevent access to patients and veterans for all those years."
Continue: