Paul Craig Roberts: "Where did the alleged "Muslim threat" come from? What produced it? 9/11 happened before Washington destroyed in whole or part seven Muslim countries, killing, maiming, orphaning, and displacing millions of Muslims who are now overrunning Washington's vassal states in Europe."
Source: Police remove 2,000 refugees and migrants sleeping rough in Paris | World news | The Guardian
Angelique Chrisafis in Paris
July 7, 2017 
Police have moved more than 2,000 refugees and migrants off the streets of Paris, where they had been sleeping rough for weeks in squalid and insanitary conditions.
Riot officers watched the refugees as they were bussed to temporary shelters in school gymnasiums on Friday morning.
Hundreds of refugees and migrants had arrived in the Porte de la Chapelle area of northern Paris, sleeping under road bridges and on the side of the road with almost no access to water, sanitation and food, outside Paris's new aid centre for asylum seekers that was opened in November.
The operation to move them began at dawn and took place calmly. Groups of men and women from countries including Afghanistan and Eritrea – some only with small rucksacks or plastic bags of belongings – were sent on to buses and driven out of Paris.

It was the 34th police removal of large numbers of refugees and migrants sleeping rough in the French capital since 2015.
Aid workers warned that France needed to establish an efficient long-term strategy for processing and housing asylum seekers in decent conditions rather than constantly taking emergency action at the last minute.
Many of those sleeping rough had queued each day for access to the aid centre only to find it was full. Hundreds had bedded down on the pavement outside the gates, alongside traffic-choked roads. In recent weeks, more than 1,000 people had been sleeping here, with aid associations saying 200 more arrived each week.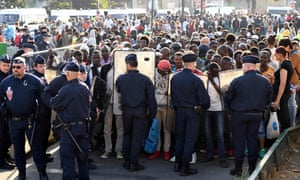 The numbers of refugees and migrants sleeping rough in Paris has grown after the closure last October of the Calais migrant camp – a vast makeshift shanty town near the Channel coast where thousands had lived in squalid conditions, hoping to get into Britain by stowing away on board motor vehicles entering the Channel tunnel.
On Friday, French authorities organised buses to take people to temporary locations in the Paris region, mainly school gymnasiums that had become available during the holiday season.
A 25-year-old former veterinary student who described fleeing violence in Somalia, said he had been sleeping on the street in Paris for one week, with little water or food and no blankets to lie on. He had come to Paris from Calais after several weeks in squalid conditions there. "I'm exhausted from living on the street," he told the Guardian. "I'm not sure where they are taking us today. I just want to be somewhere fit for humans. I'm so tired and hungry, but you just have to be patient."
Continue:
Police remove 2,000 refugees and migrants sleeping rough in Paris | World news | The Guardian