Source: I know how alcohol can ruin your mental health. So why is it so rarely discussed? | Matthew Todd | Opinion | The Guardian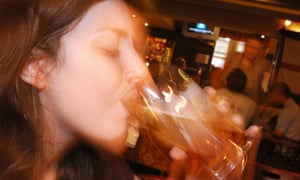 It's amazing to see the British finally begin to talk about our feelings. But even as we mark this year's Mental Health Awareness week, there's still an elephant in the therapist's waiting room: alcohol.
The physical health risks of drinking are well known. Less discussed are the mental health consequences. These are real and significant, and seem to be getting worse. For instance, the number of people admitted to hospital with alcohol-related behavioural disorders has risen in the last 10 years by 94% for people aged between 15 and 59, and by 150% for people over 60.
Alcohol played a key part in my own problems but it took me years to come out of denial about it.
I never drank in the morning or in parks, just in a British way, bingeing along with, well, everybody else. I didn't question it because no one else seemed concerned.
Presenting to therapists over the years with anxiety, patterns of self-destructive compulsive behaviour, swinging between thinking I was the most important and the most worthless person on the planet, they barely asked how much I was tipping down my neck. And it was a lot.
The more I drank to medicate my low self-esteem, the worse my anxiety got and the more I drank to dull it. Years passed and I couldn't see I was stuck right in the classic "cycle of addiction".
Eventually a friend of mine who had gone into Overeaters Anonymous sheepishly suggested I might have a problem. I resented it hugely. I was successful with a good job. There was no problem.
Eventually, it was a work incident that woke me up. As editor of Attitude magazine, I believed it would be culturally significant to have Harry Potter on the cover of a gay magazine. When Daniel Radcliffe, who played Harry in the film franchise, agreed, the only gap in his schedule for a shoot was early on a Sunday morning, which was annoying. Saturday night was my favourite time to go out. But fine. I could do this.
Continue: